As a local business ourselves, we love everything local.
Local art, local produce and of course our local people! 
Learn a little more about some of our artisan suppliers below and browse our newly renovated 'Gallery 1891' on the ground floor in-store. You'll find wonderful items for the home & kitchen as well as some great gift ideas.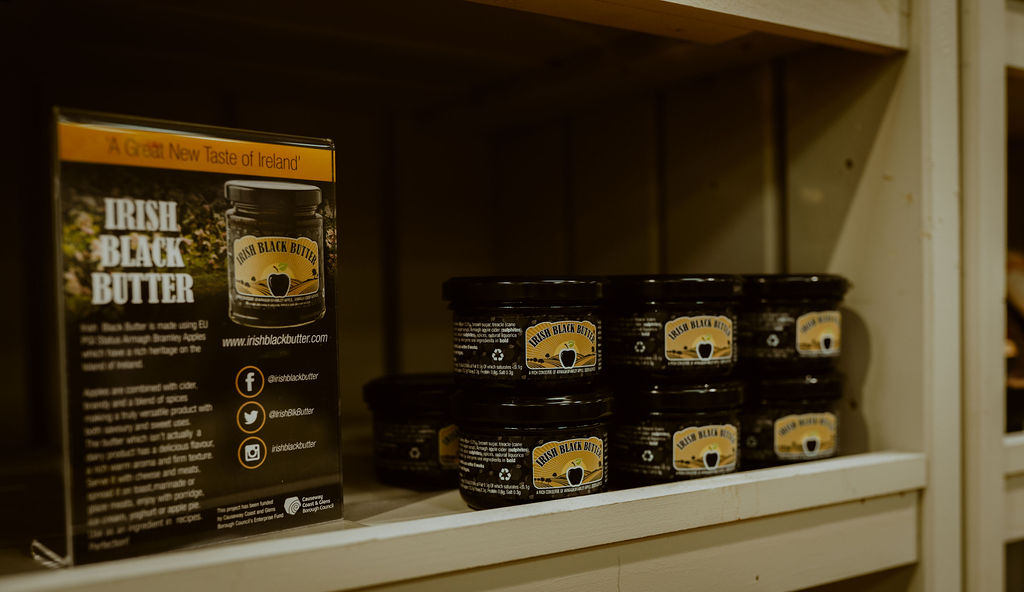 Irish Black Butter
During the 2016 successful Year Of Food and Drink in Northern Ireland, local farmer Alastair Bell was inspired by the enthusiasm and drive of local producers  taking  great local produce  to home  and overseas markets. That inspiration motivated him to create a black butter preserve and launch  'a new taste of Ireland' which is Irish Black Butter.
Over some years Alastair had been aware of black butter conserve and how it was said to date from medieval times. It is an old traditional recipe which has been in use on the island of Ireland. A combination of bygone days spent in the serenity of the Garry Bog near Ballymoney cutting turf,  enjoying homemade scones and pancakes with apple jelly were some of the seeds of inspiration for  Alastair's new venture – Irish Black Butter.
Glenn Thompson Art
Glenn is a local artist specialising in line-and-wash and watercolour.  His painting is inspired by Northern Ireland's towns, countryside and coastline.  This range of paintings was produced to capture the astonishing beauty of the north coast and each painting is an original watercolour. 
Glenn works as a full time artist from St George's Weekend Market in Belfast.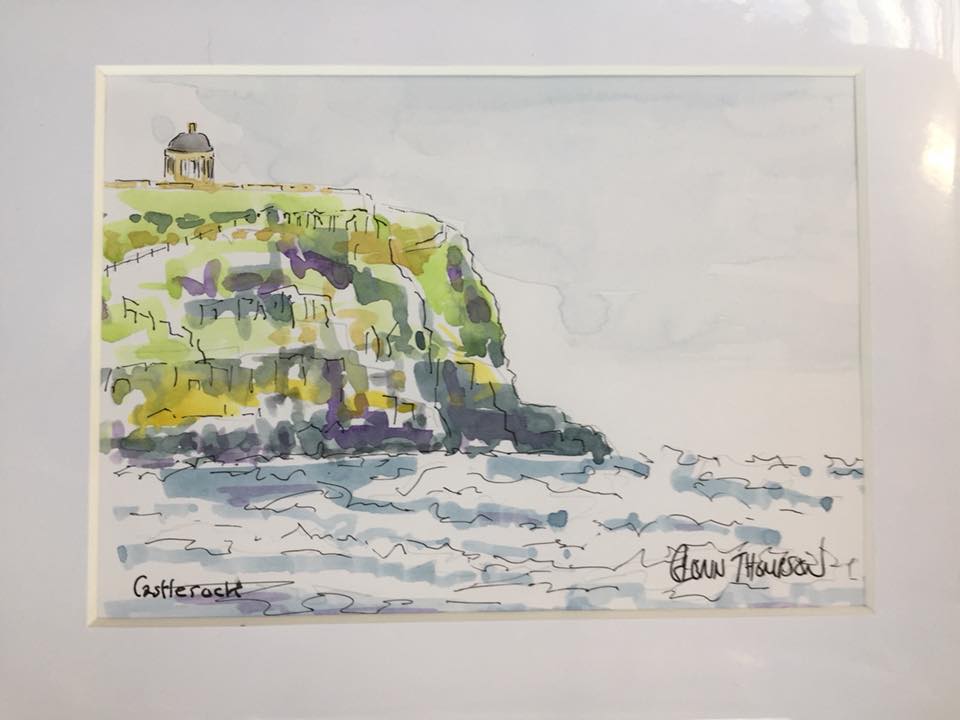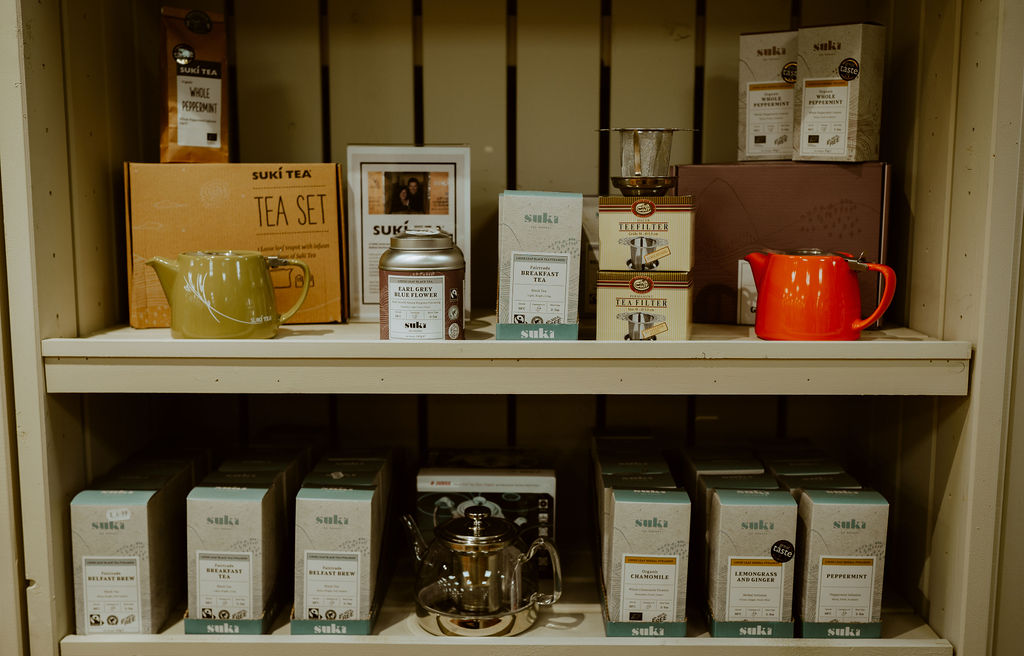 Suki Tea
In 2005, Annie and Oscar set up a stand at a small Farmer's Market in Belfast, Northern Ireland. Touring about the Island of Ireland they visited farmers markets and craft fairs and with the very generous help of their friends hit the music festival scene with their Tea & Toast set up. The business plan was. . . Tea, Fun, Money. 
Having both wandered through Asia, their eyes were opened to a world of really (really) good ethically-sourced teas, which they wanted to share with everyone. Launched with the aim to provide their customers with the finest loose leaf teas, herbal infusions and fruit blends from around the world; the pair made ethical sourcing their priority whilst delivering a quality and fresh product.  And so it began...
Sharon Millar Art
Born in Singapore to Malaysian and Northern Irish parents, Sharon emigrated back to the Emerald Isle over forty years ago, and her home has been on the Antrim Coast ever since... her rich cultural heritage has had a deep influence on her art and the paintings she makes. The deep jewel tones of her palette speak to her Asian roots and early life in Singapore, and her fascination with the Sea from her life in Northern Ireland, learning the Irish folklore and mythology. 
Sharon's stylised photographic prints of the local area can be found in our artisan department - Gallery 1891.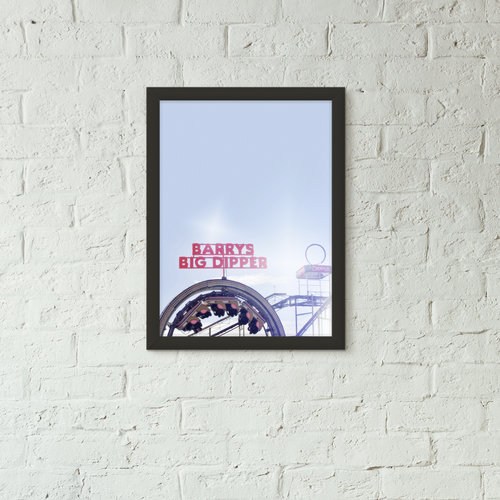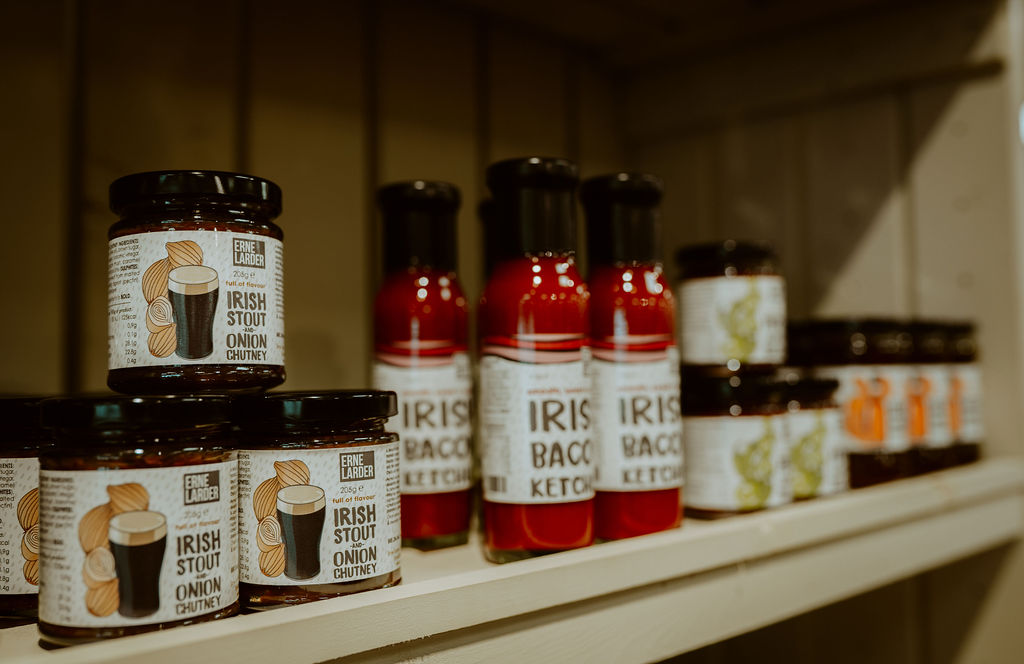 Erne Larder
Erne Larder are a family run preserve business based in Enniskillen Co.Fermanagh founded by local chef Declan O'Donoghue in October 2016. Declan has been a chef since the age of 16 & has gained vast experience in the hospitality industry & has exceptionally high standards, something which Erne Larder prides itself on. They offer small batch handmade Jams, Chutneys & Sauces made to a professional chef standard. 
Some of our favourites include Irish Stout Onion Chutney and Irish Bacon Ketchup - available now on our shelves. 
Betty Boyns Designs
Designer & artist Paula Nicholls from Cornwall works under her mother's maiden name of Betty Boyns. Her works showcases a love of coastal areas including our beautiful Portrush. 
We have specially commissioned Betty Boyns Designs to create a wonderful range of Portrush printed items including mugs, coasters, magnets, bags & tea towels available exclusively in The White House. 
Her work has been created to slip seamlessly into your home but bringing with it a twinkle of holiday humour & charm with colours drawn from winter mornings to summer evenings.